A 3 Day Sacred Sexuality Retreat with Sarah


THE GREAT REMEMBERING: Sexuality, Soul and Our Eternal Wildness
APRIL 12-15
ASHLAND ,OR
SEX IS A WISDOM KEEPER, ASKING US TO LISTEN.
Who are you sexually, from the inside out?
"Sexual energy does not just support the desire to have sex. Sexual energy supports the desire to exist" Zhenzan Dao
Based in the profound work and culture of Mogadao Sacred Daoist Sexuality, these 3 days will create a space for the integration and understanding of your sexual truth into your life and partnerships.
Join Sarah Byrden, master teacher and soul- guide, for the first-ever residential immersion of its kind, crafted to help you walk more fully into the integrity, reverence, and power of your sexual energy.
You are invited to the celebration, refinement, and cultivation of the most fundamental energy of your life:
MogaDao Sacred Sexuality Qigong Forms

MogaDao 5 Element yoga

Ecstatic dance

Gateless Writing

Nature immersion

Community sharing and witness

Wisdom teachings on the true context of  pleasure and orgasm- which are so far beyond just technique, but rather an entire atmosphere of self-reverence, power and truth,
Our sexuality is one of the most fundamental aspects of our life. It is our most intimate, vulnerable and personal sphere, and is more important and all-encompassing than we ever imagined—It is the most sacred and primary energy that we have. Ancient Daoism and Chinese Medicine hold sexuality in its rightful place as a primordial power and acknowledge it as the fundamental energy of every aspect of our lives—responsible for physical health, vitality, creativity, generosity, trust in life, and our ability to live a life that is aligned with our unique and original purpose. Our sexuality holds, quite literally the code to our destiny.
This retreat will be a homecoming, a great and beautiful remembering of the inherent goodness of sexuality that will return you to your sacred self and the wild river of your life. Our sexual lives are not separate from any other facet of our being. In this retreat, we will build the bridges between spirituality and sex, pleasure and voice, truth and desire, nature and body..
If you have made it this far, there is a longing and a question that has already been stirring inside of you. You are in the right place. This is a sanctuary for your most intimate questions, desires and struggles around sexuality.
This retreat will be a sacred journey in which you will discover and meet your sexuality, from the inside out, possibly for the first time in your entire life. Because sex is not separate from any area of our lives, we will journey through the diverse territories of our desire, our pleasure bodies, the emotions of our heart, our longings and a wildness that is innate and lives in our bones.
Whether you are in a partnership, single, choosing celibacy, and no matter your sexual orientation or gender identification, this is the place for you to move into a more integrated and reverent relationship with your sexuality. This work is safe, intimate, reverent, caring and soulful.
Our questions and challenges around sexuality are as infinite and unique as we are. This retreat will hold space for the intricate nature our sexual lives including choice in partners, low libido, high libido, a great love of sex, a great fear and sadness around sex, sexual addiction, sexual disinterest, self respect and body love, the pain and shame of sex and sexuality, our deepest longings to be "seen and met", the place of vulnerability and emotion, past sexual experiences, pleasure, intimacy, friendship, laughter, true masculine and feminine, infidelity, shame…and any others that you bring to the table.
There will be absolutely no nudity, sexual touch or contact in this workshop. This space is held with reverence, respect, and care for your privacy.
Retreat Cost: $600 before April 3
$750 After April 3
   Room and Board are an additional cost ranging from $300-$625
4 MONTH PAYMENT PLANS AVAILABLE
I have created this, very intentionally, as a residential retreat. I (as well as Buckhorn Springs) ask that all participants stay on-site, even if they are local to Ashland, in order to allow for the deepest kind of immersion.
Single Accommodation Cabin: $625 /Single Accommodation Lodge: $545 /Double Accommodation Cabin: $400/ Double Accommodation Lodge: $355/Triple Cabin $300
 Includes all meals from dinner Thursday through breakfast Sunday.
Check in at 4 pm on Thursday – Dinner served at 5:30/6:00 pm. First program after dinner
We will be finished by Sunday at noon. No lunch will be served this day. 
PLEASE NOTE THE "FREQUENTLY ASKED QUESTIONS" SECTION AT THE BOTTOM OF THIS PAGE

Please note that if you have not worked with Sarah in some capacity, a 20-minute ZOOM conversation is required to attend this retreat.  You may schedule that here http://www.theelementalself.com/schedule/
Location and Lodging
Buckhorn Springs is an extraordinary place, tended by a wonderful family, and surrounded by beautiful nature – a lovely place to walk and roam.

FAQ's
What if I have never studied Qigong or this work before? Is this workshop appropriate for me?
One powerful opportunity of this workshop is that it is a doorway, regardless of whether you have studied with me for years, or this is your first time in this work or with me. The culture will be evident in the room – one of deep resepct, care, reverence, sacred practice and compassion- and will be accessible to anyone who is called to join. I will not be teaching a "curriculum" per say, from the ground up, but rather offering us a very concentrated experience and practice space that will allow for the sexual wisdom and life energy in you to arise. If this is your first workshop, you will no doubt have many questions and likely a deisre to dive deeper into the work- but it if you do feel drawn, there is a place for you. I have witnessed profound transformation in students who have come for just one practice, without knowing any of the background information per say. This workshop will bring together longer-time practitioners with new ones- creating a practice village and community that is very potent- as we all walk along the same road together.
Can I come for only part of the workshop? 
No. This workshop is intended to be an immersion that requires a closed container. If you would like to explore this work but cannot attend in full, the online program is a great way to start.
Can you say more about the "sexuality" part of this workshop and your teachings about orgasm and pleasure?
There is never any intimate touch, explicit sexual contact or requests for such, intimate partner work or nudity in this work. You will find the atmosphere filled with respect for personal privacy and a reverence for the conversation at large. The intimacy will come from a feeling of great safety, compassion and the truth of vulnerability that arises.
I will be offering teachings on sexual anatomy, orgasm and pelasure. These will take place on silicon models of anatomy. The more intimate sexual teachings will be held inside of the sacred practice forms- Qigong based- and once we have established a very safe container together.
Can I bring my partner? Is this a couples workshop?
Yes, absolutely you may bring your partner! This is not a couples workshop per say (meaning there will be people there who are not part of couples), but a couple who attended togeher would gain a tremendous amount of truth, depth and clarity about their partnership and sexual relating.
I am single. Is there a place for me?
Absolutely. One's singlehood is a very powerful place for cultivating sexual energy and sovereignty. Our sexual empowerment and aliveness must begin with the self, and this work will affect your future choices and ability to attract the "right" kind of partner.
I have a history of sexual trauma. Is this appropriate for me?
In short, yes.  This work (the practices in particular) creates a very strong container around tauma, allowing one to feel their "future without touching their past" necessarily. I have worked with many students with trauma and consistently see the powerf of this work to recreate a feeling of safety, empowerment and agency in the body and spirit. Please reach out with any specific questions…
I have a chronic illness or limitation in physical body. I am nervous about so much practice and movement.
If ever there was a place for you, this is it. This work is tremendous at cultivating energy and bringing a kind of self-love and acceptance into the physicality that is profound and life-affirming. You are welcome to join, to be a part of the group, regardless of limitation. You may sit or lie down in the room with us whenever you like, all practices can be done in a chair. There is much medicine to be harvested in this weekend- and a tremendous amount of belonging.
Do you take special payment plans?
Yes, we have arranged for 4 month payment plans which you will find in the registration above. Should you have a special financial situation, we can arrange for a 5 payment plan for you (via credit or debit card only). Please email Cindy at info@theelementaleself.com to set this up.
What Others Have To Say About Sarah's Work
Your teachings have been a homecoming for me, my body, and my sexuality. It's given me a ground for what sacred sex really means and is and provides beauty and profound comfort to my experience of life. My work with clients is enhanced, my sexual relationship with my lover is becoming more engaged and playful, and I feel great in my body. – Women's Immersion, Boulder CO
The work I've done in just two months with Sarah and her teachings of MogaDao Sacred Daoist Sexuality has been beyond transformational….This work is SO much bigger than sexuality. This is about rediscovering who. you. are. and how to be a vessel capable of holding all that power, all that pleasure, and knowing how to give your heart out to the world in the most beautiful way. I recommend MogaDao to every friend in my life who is struggling with life purpose, clarity, low energy, and of course, sexual intimacy issues. This is one of the best investments I've ever made. – Immersion, Boulder CO
Sarah is courageously shifting the way we think about, talk about, and experience sexuality. The depth of her knowledge is remarkable, as is her capacity to shed light in dark, uncharted places. She does so with compassion and urgency I find infectious. –  Sexuality Workshop, Boulder CO
This is the work of a lifetime. I cannot recommend this work enough to anyone with the courage to peel back the layers of their conditioning to reveal their essential self, in all its magnificence and beauty, and to discover that there has never been anything wrong with who they are and what they feel. It is a path to true personal power and sovereignty. – Spring 2017 Online course
About Sarah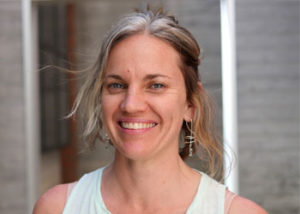 Sarah Byrden is a master teacher and soul-guide, dynamic educator, speaker, and advocate known for her domain-changing work in sexuality education. She is noted for her intuition, grounded presence and ability to build bridges of understanding and deep transformation in her work, as well as creating spaces of sex education that are safe, integrated and compassionate. She has been facilitating in the fields of empowerment education, international cross-cultural development, and body-based healing for over 18 years. As a visionary leader, Sarah's work, mentorship, and consultation is sought after by educational institutions, teachers, parents, birth-workers, and students of all ages, genders and orientations. She is a 2 time TEDx presenter, a certified MogaDao Sacred Daoist Sexuality Teacher and holds over 2500 hours of formal training in western and non-western body-based healing modalities. Sarah is the owner and operator of the company THE ELEMENTAL SELF. Her most recent project, THE BODY OF SEX is a radical paradigm-shifting approach to sex education and empowerment on college campuses.