THIS YEAR'S RIVER TRIP
June 28-July 2
LOWER KLAMATH RIVER
The wild is calling from within, calling from without. Will you listen?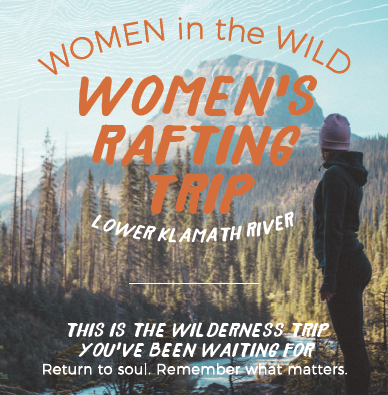 THIS YEAR'S BACKPACKING TRIP
September 13-18
Trinity Alps CA
This trip launches from Ashland OR
Registration opens soon. Email Sarah to be notified!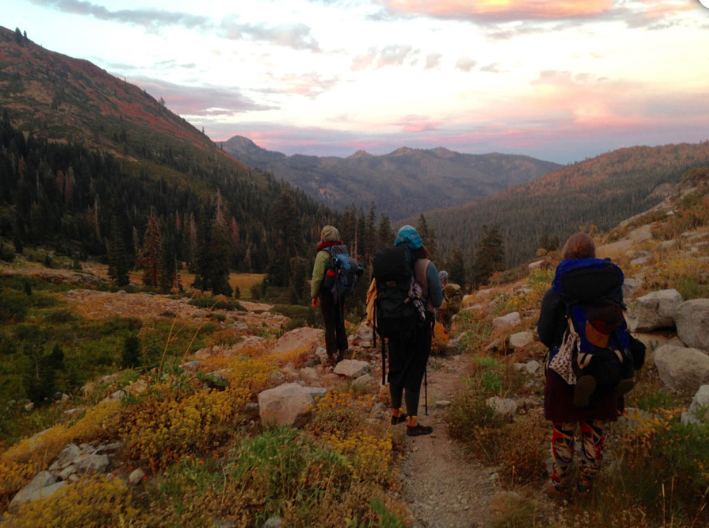 This is the wilderness trip you have been waiting for.
Women in the Wild are women who come for soulful and honest sisterhood, to know their purpose and to belong. They come to remember. They come to connect. They seek new frontiers, freedom, inner peace, creativity, clarity, vitality. They come for love. They come to be fed by beauty. They come to laugh and to cry and to soar. To come back home to themselves. They need the courage to see hard truths, the fire to make important changes. They come to be nurtured, to be seen. They come for the dirt, for the earth, for the place from which they came. They come for adventure, for solitude, for sovereignty and challenge. They come for mind-bending beauty and ceilings of shooting stars.
Why will YOU come?
These are the wilderness trips you have been waiting for. These journeys into nature are the finest alchemy of teachings, experience and transformation that I can offer you. They are intimate, breathtaking and truly life-changing.
So much more than a backcountry adventure, they are a deep initiation into your most elemental self and a return to the wild woman within that calls to you in your your deepest longing.
Indeed, there is a Great Remembering waiting for us in the cathedral of the wild, stirring our life blood in ways that nourish and anchor us once again to our vital core: instinct, aliveness, wisdom and joy. The creation energy of life itself is the drum beating behind this rhythm. These days together will carve a river of light in your body and soul.
Prerequisites
Though no prior backpacking experience is necessary, you must be comfortable and able to carry a 40 lbs backpack at elevation for stretches up to 6 miles in a day. Physical fitness is essential for this trip, and though covering miles is not the goal of our trip, it will be physically challenging and take us to our edges.
 Participants must  have experience, capacity and inner resources for navigating emotional, psychological and physical challenge and growth.  This trip will be an encounter with your own truth and self, which can sometimes bring things to the surface. It is important that participants have the inner capacity to navigate their own inner journey and what might arise in their process.
Trip Details
This trip begins in Ashland OR at 6 pm on September 12, with an opening circle. This circle is required for attendance as it will be an essential part of all that unfolds. Plan on spending the night with our group at our "group house" on this night.
We will depart Ashland for the Trinity Alps in Northern CA on the morning of the 13th. There will be no group transportation for this trip. We will need an additional 4 participant cars for the journey. Gas will be split among riders. We will caravan to the trailhead- an approximately 3 hour drive.
We will journey into the backcountry to rushing rivers, high mountain lakes, magical meadows and beautiful forests. We will hike approximately 12 miles with full packs over the course of our trip, and an additional 6-8 without packs.  There will be a substantial elevation gain in this climb.
Our week together will create a space for connecting deeply with yourself, your own truth and soul. We will draw from practices of MogaDao Sacred Daoist Sexuality and Archetypal Qigong, land-based ceremony, wisdom and ritual, the Gateless Writing method,  the oracular book Women Who Run with the Wolves. We will ebb and flow through various activities and atmospheres of exploration, including sacred physical practice, writing, land-based activities, meditation, silence, movement, hiking, group sharing, solo-time, story and laughter…lots of laughter.
Rather than using the wilderness as backdrop for an outward pursuit of adventure, we will be acknowledging and listening to her as a central and animate character in our own wild and human journey. We will attune to the land and allow her to inform and influence us, instead of the other way around. We will slow down and attune to a more natural rhythm that will allow us to see, hear and feel in ways that that elude us in the business of our daily lives. Our mornings will begin in silence.These trips dive deeply into inner transformation and exploration. They will ask a lot of you- they will ask for honesty, vulnerability, humor, a willingness to look and see, to grow.They are gentle, they are fierce, they are wild, they are sweet. We laugh, we cry, we hike, we share, we write, we sing, we practice, we dive deep, we soar high.
You will walk away feeling recharged, nourished, more aligned with your life and intuition, connected to the fire inside you, and deeply aware of the preciousness of this sacred life.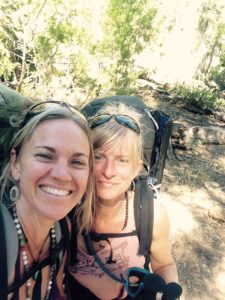 I will be leading this trip with Kelly Shelstad of InnerGuide Expeditions. Kelly is a world class guide and facilitator. She brings a shining heart of gold, keen intuition, big vision and a diverse and honed skill set.
Kelly and I LOVE working together and have a fantastic collaborative synergy. It's contagious.
Be the first to know. These trips fill up fast.
STAY IN THE LOOP
Be the first to know about Sarah's upcoming workshops, retreats, courses and speaking engagements.