A 3 Day Gateless Writing Women's Retreat 
 May 24  – 27, 2018
DEEPEN YOUR CONNECTION TO YOUR CREATIVITY
UNLOCK THE VOICE THAT FLOWS THROUGH YOU
RECLAIM YOUR PERSONAL POWER
REVEL IN THE MAGIC OF CREATIVE COMMUNITY

Join us for a writing retreat in the beautiful valley of Ashland, and dive into the hidden pools of your genius. 
In 3 days of unconditional love for the written word, you'll unlock the stories and voice waiting to flow through you.  With intuitive and skilled facilitation, Kate and Sarah will guide you into your body, heart, and creative wellspring.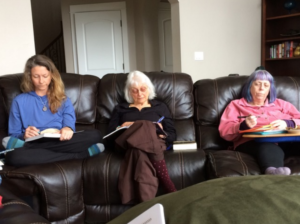 Utilizing the brilliance of Gateless Writing, a method based in the neuroscience of creativity, we will create an unequivocally safe writing space that will literally unlock your creative brilliance.  You will only hear about what is strong in your writing which will stoke the fire of your unique genius in powerful ways.  You will receive positive feedback, reflecting your gifts and one-of-a-kind strengths on the page.  There will be no critique in this creative space.  Purely positive feedback on your writing will unleash a creative wind like never before.  Your inner child can relax, your creative muse can exhale – you will be handled with care.
You'll walk away with a deeper connection to your creativity, the power of your writing, and your unique voice.  The week will include generative writing sessions, bodywork with Sarah, one-on-one coaching with Kate, delicious food, time to relax and wander in the woods, and our collective devotion to the soul-making play and sisterhood of writing.
Location
Buckhorn Springs
From Portland:
Take I-5 South to Jackson County. (4 hours and 21 minutes).
Take exit 14 from I-5.
Follow OR-66 and Buckhorn Springs Road for 11 miles or 18 minutes to the Buckhorn Springs Lodge. 2200 Buckhorn Springs Rd. Ashland, OR 97520.
Accommodation and Meals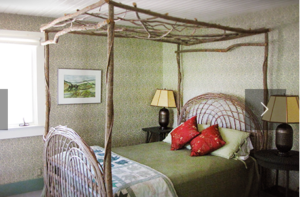 We will be staying at the lovely and family owned Buckhorn Springs retreat center, and you have the option of staying in shared or individual rooms or cabins. Our meals will be cooked lovingly by the wonderful people of Buckhorn Springs ( who have their very own cookbook filled with signature recipes) and we will also have a night on the town and eat one dinner out in Ashland!
Price
The cost of the retreat without food and lodging is $600. The price below is additional and includes 3 nights lodging and dinner Thursday through breakfast Sunday ( except for dinner out on Saturday night). Please choose your lodging preferences below. We will arrange room selections once everyone is registered and we will do everything we can to accommodate cabin vs. lodge preferences. To view the difference between cabins and the lodge, please visit http://buckhornsprings.org/accomodations/
Single Accommodation Cabin: $625
Single Accommodation Lodge: $545
Double Accommodation Cabin: $400
Double Accommodation Lodge: $355
Triple Accommodation Cabin (only 1 triple cabin available): $300
The Retreat is now full.  Please enter your name and email to be added to the waitlist.
About Kate and Sarah. (We love teaching together!)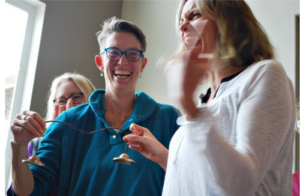 Kate Gray's passion comes from teaching, coaching writing, and volunteering as a writing facilitator with women inmates and Veterans.  She is the author of three poetry collections and a novel, Carry The Sky.  For more information, go to kategraywrites.com.
Sarah Byrden is a master facilitator with over 17 years of teaching experience, a wildly passionate writer and a certified teacher of the Gateless Writing Method.  She is noted for her grounded presence, powerful wordsmithing, insight and soulfulness.  She will help you name your unnamed, speak your unspoken, claim your unclaimed, and embrace your voice so that you can remember why you are here and what you have to give this world.
What Others Have To Say about these retreats
"I was so touched and trusting of all that you offered for writing sessions, the prompts, the feedback and sharing, the helping folks not to rescue each other but to simply be present and supportive of whatever came up, perfect.  I felt held continually, by you two, by the incredible love and caring of the group." ~ 2017 Participant
"The facilitators are brilliant, respectful, encouraging, helpful and funny.  You will learn so much about writing without feeling like you're being taught.  The sharing is important and useful, and the feedback is respectful." ~ 2017 Participant