WOMEN IN THE WILD: WOMEN'S RAFTING TRIP
Lower Klamath River, Northern CA

Wild women. They come to be fed by beauty. To laugh and to cry and to soar. To return to themselves. To be nurtured, to be seen. They come for the trees and water, for the sky and earth, for the place from which they came. They come for adventure, for solitude, for sovereignty and community. They come for mind-bending beauty and ceilings of shooting stars. They come for home and sisterhood, refuge and inspiration.
If you can hear the call, whether it whispers or wails, come and come running. The wild, the women, the river, and the promise of life and the untamed soul awaits you.
This summer, a band of wild women will gather on the waters of the Lower Klamath River for a soul-stirring adventure.
A cathedral of wilderness is waiting for you, to beat the drum of your inner life. A wild river waits to quench you, to make lush what has become dry and to rejoin you to the ecosystem of sisterhood and the sacred space of your soul- world. Long days afloat on the water, bubbling with insight, laughter, play, reflection and spacious intimacy with your untamed nature.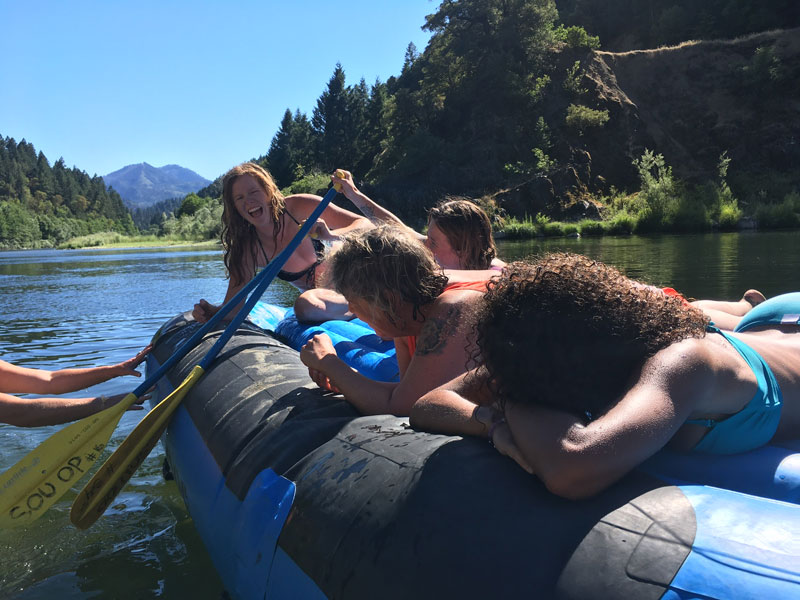 You are invited to join an extraordinary river trip designed to bring you into deep connection with nature- both yours and that of the river and land we travel. In the warmth and nourishment of honest community, we will spend 5 days in nourishment and remembering – a journey of initiation into your elemental self, a return to the wild woman within that calls to you in your most private moments.
On the crisp waters of the lower Klamath River, held by the banks of pristine wilderness, world-class river guides and Sarah Byrden's renowned and masterful facilitation, you will be taken by the hand into the tender, fierce and vital world of the wild. Your wild. Open your morning eyes to the wide sky and silence, solo time, meditation and the singing river. Circle around the warmth and illumination of fire and bright women by night, make art, soak in the sun, revel in the blossoming of summer, share delicious meals and rest your body on the steady earth under a canopy of stars.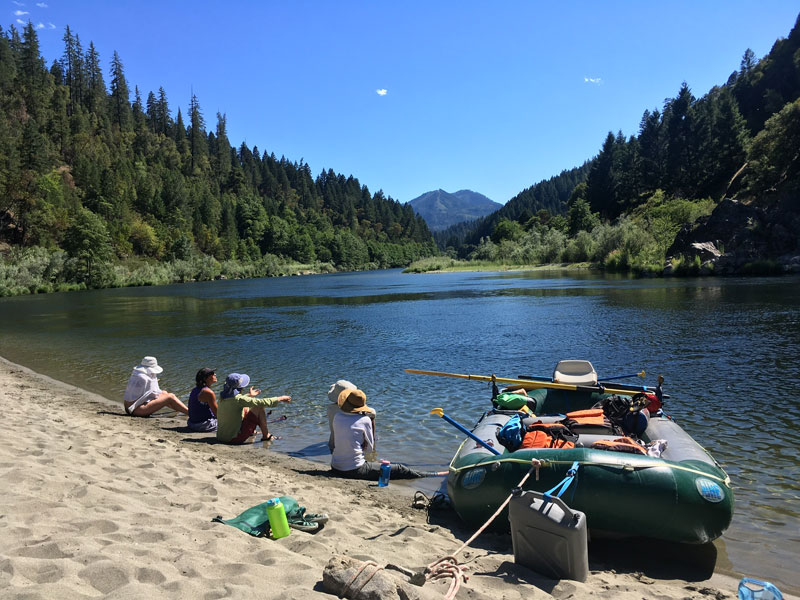 Held inside of the exquisite frame of a story from the oracular book, Women Who Run WIth the Wolves, these days will be dedicated to the tenor of the wild self and renewing your own personal myth as your deeper currents begin to surface and find voice and vision. Through the practices of Gateless Writing, circle, ritual and Archetypal qigong, we will call and stir her awake, as the wild becomes your partner in exploring more fully what it is essential to your life and your becoming.
-Fill your cup, nourish and celebrate the life that is all around and within you
-Remember, return to the wild soul self, the one that gives your life meaning from within
-Gather the courage, clarity and inspiration to step into the next stage of your life
-Nourish and nurture what aches, is tired and thirsts
-Mark and empower an important transition or intention
-Drink in the power of honest sisterhood
-Give yourself a safe and sacred space to see important truths, make important decisions
"Go out in the woods, go out. If you don't go out in the woods nothing will ever happen and your life will never begin."
— Dr. Clarissa Pinkola Estes
TRIP DETAILS AND LOGISTICS
Note:
Tents and cookware are provided.
Because this is a River Trip, weight is not necessarily an issue. Please pack your things efficiently.
1 sleeping bag- make sure it is warm enough for you- always air on the side of too warm
1 sleeping pad- full length
1 headlamp with extra batteries
1 waterproof camera (optional)
1 personal eating utensils (lg bowl, mug, spoon and fork)
1 water bottle that carries at least 2 liters
5 Underwear
1 shorts/swimsuit
1 river sandals with strap or water /tennis shoe
1 Pair of shoes for camp/ nighttime
1 long sleeve shift for sun-protection
1 fleece or non-cotton pants (no jeans)
3 T-shirts
1 Sunshirt
1 fleece or non-cotton sweater
1 Puffy jacket (down or synthetic) or an insulative layer of some kind
1 Rain jacket
1 small dry bag for personal gear on the boat
1 camp chair- crazy creek et: – essential- you will want to have this
1 beanie
1 sunhat
3 pair of socks (warm)
1 sunglasses with neck strap
1 bandana
1 small backpack for a day hike
Personal toiletries including lip balm
If you need menstrual supplies, please bring extra ziplocks for waste- we will be packing everything out.
1 personal medications
1 sunscreen (high spf)
1 journal and a pen
A small gift- something with symbolism and meaning that calls to you, that will be given away
OUR CREW
We have an awesome crew! We will be guided by 3 incredible professional raft guides- Alyssa, Brianne and Joelle- We were all together for this trip last year and had an absolute blast- we're looking forward to round 2~
It was easily one of the best experiences of my life thus far, and I loved every bit of it. This is probably the first workshop type experience I have ever been a part of that I walked away completely and utterly satisfied with everything that had been offered…my own experience is that my expectations for this trip were completely exceeded in every imaginable way. I've never felt so safe in a group of women
Of all the learning experiences I have signed up for thus far in my life, being led into the wild by Sarah has touched me more deeply than any other, and I am so happy to have this work forever ingrained in my soul. If you need your connection restored — to self, to others, to nature, to the wild in us all — this is one path I highly recommend.
It is difficult to put into words how powerful and life changing this wild woman trip was for me. It was a process that worked through my mind, body, heart, and soul…I reached places on this journey I had no idea existed. It was challenging yet incredibly fun and felt free flowing…This trip has changed my life drastically and I will be forever grateful.
If you are feeling the itch inside, the rising tide of knowing that something is ready to shift for you — something you may not be able to put words to yet, but something nonetheless is calling to you from inside… calling for space, calling for attention, witness, accountability, clarity, direction, ownership, reflection… this trips provides a perfect container for you to access all of what you need RIGHT NOW for your life, sourced from within and tended to by nature and by Sarah's skillful, loving guidance.
I feel like I have my life back.